There are many bitter rivalries in Dune, but one that has gone mostly unresolved is that between Glossu "Beast" Rabban of House Harkonnen and Gurney Halleck from House Atreides. In this article we'll take a deep dive into how their conflict has been represented—with varying outcomes—both in print and on screen, for almost 60 years.
Spoiler warning: This article contains discussions about the second half of Frank Herbert's novel Dune, its previous adaptations, and speculation about Dune: Part Two which is premiering in November 2023.
Frank Herbert's Dune (1965)
Stilgar cleared his throat, said: "Rabban, too, is dead."
And so, Rabban's story in Frank Herbert's original Dune novel abruptly ends. His death occurs "offscreen". There was no celebration by the Fremen over the death of Mudir Nahya (demon ruler), as they had called him.
Nor did the author describe any reaction from Gurney, regarding the death of the man who'd given him his inkvine scar and killed his family. However there are numerous points, earlier in the novel, where Gurney expresses his wish to kill Rabban, including:
"I've a score of my own against Rabban. I owe him for the lives of my family … " He rubbed at the scar along his jaw. " … and for this … "

"My Lord, I've never left your service. You're the only one left me … to think you dead. And I, being cast adrift, made what shrift I could, waiting for the moment I might sell my life for what it's worth – the death of Rabban."
Did Frank Herbert subvert expectations by preventing any closure for Gurney, or was this one of Herbert's deliberately unresolved plot points, used to encourage readers to think about the book long after finishing it?
This rivalry's conclusion in the Dune novel may have left many readers disappointed, however in some of the various adaptations Rabban isn't included at all!
Arthur P. Jacobs's Dune (1972-1973)
In 1972 producer Arthur P. Jacobs, famous for the Planet of the Apes franchise, obtained rights to film Dune. Two story treatments were written, the first 38-page treatment was by Joe Ford & Bob Greenhut, and the second was 52-pages long, penned by Rospo Pallenberg.
Rabban is not mentioned at all in either treatment, with only the Baron and Feyd being the key villains from House Harkonnen. A writers strike stalled development of a full script, and the death of Jacobs—just three days after the end of that strike—brought an end to this production.
Alejandro Jodorowsky's Dune (1974-1976)
After Jacob's death the movie rights to Dune were picked up by Caméra One in France, with Alejandro Jodorowsky as the writer and director.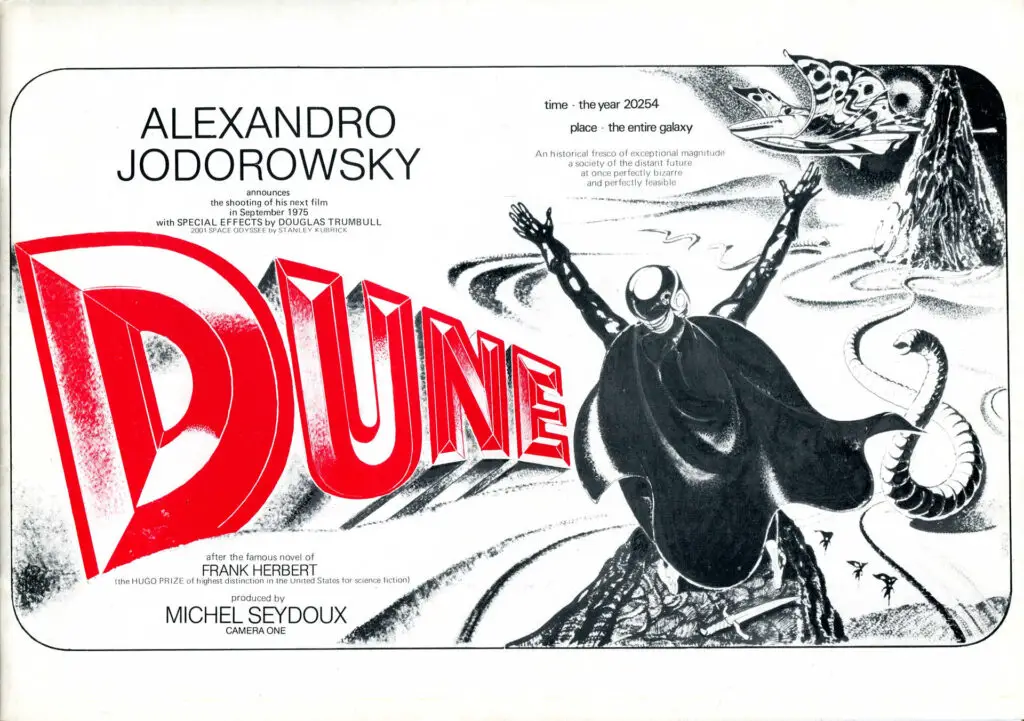 In Jodorowsky's script Fremen kill a troop of Harkonnen soldiers, and Rabban is found hiding in the debris. Stilgar shoots Rabban in his backside, killing him, then the Harkonnen's head is raised on a lance—to great celebration among the Fremen.
Rabban's death would be altered slightly in the Moebius storyboards; while he is still found hiding in the rubbish, the Fremen kill him by staking him to the ground using 12 spears.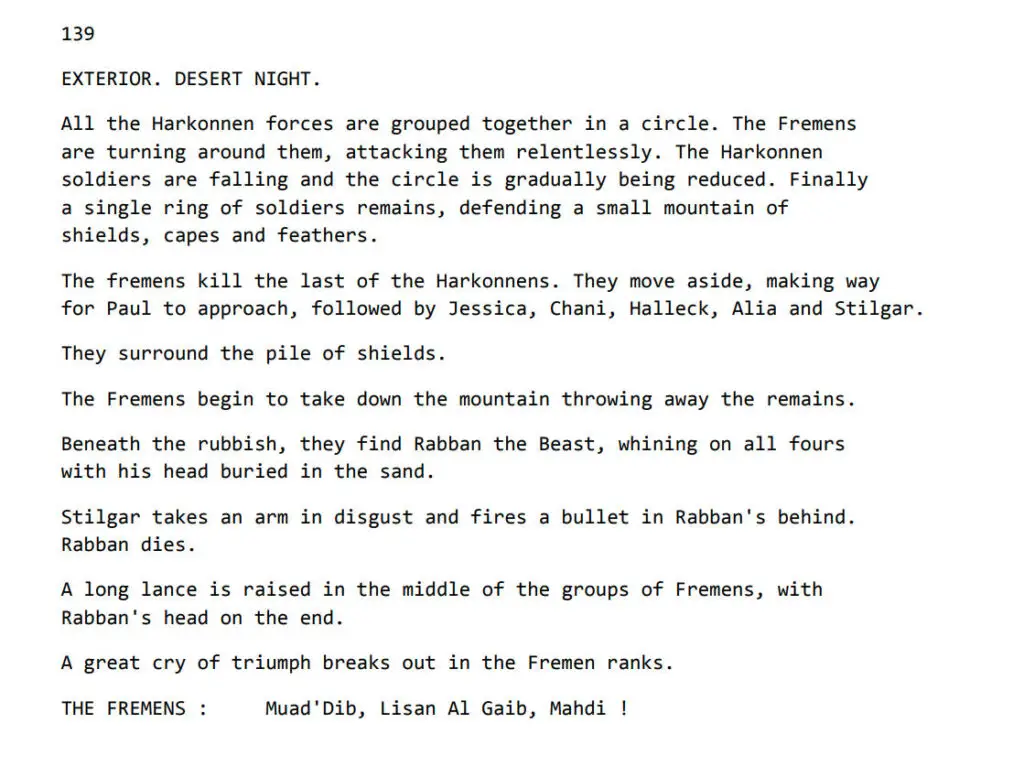 Ridley Scott's Dune (1979-1980)
When Dino De Laurentiis obtained the movie rights to Dune in the late 1970s, he hired Ridley Scott as the director, and Scott asked Rudolph Wurlitzer to pen the script. Unfortunately, there is very little information about Wurlitzer's script, and it is not even clear if Rabban was in it or not.
David Lynch's Dune (1984)
After Ridley Scott left Dune to direct Blade Runner (1982), David Lynch was hired as the movie's new director.
In Lynch's script Rabban is killed by the Emperor as a warning to the Baron, although this happens offscreen and is only implied by the fact that Rabban's decapitated head sits in front of the Emperor when the Baron arrives.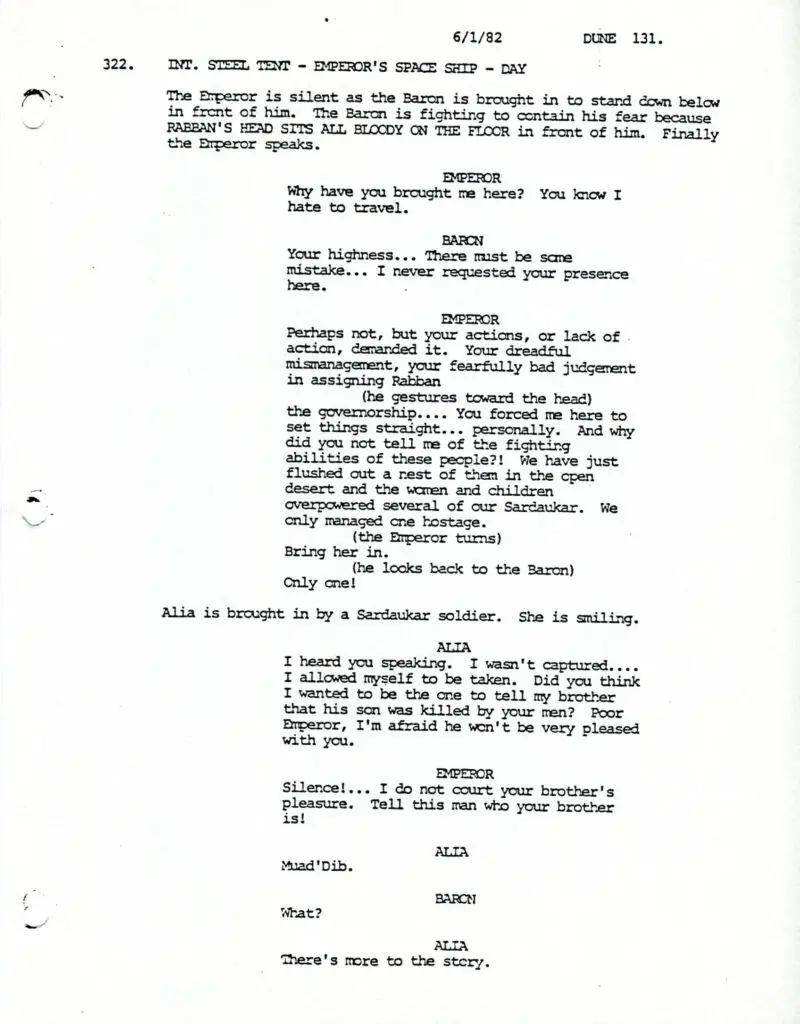 In the final film, as the Baron is traveling to see the Emperor, we hear that "The Emperor's had Rabban seized". This line doesn't appear in any of the scripts and appears to have been added in post-production, for exposition.
We later see Rabban's head on the floor in front of the Emperor, just as described in the script.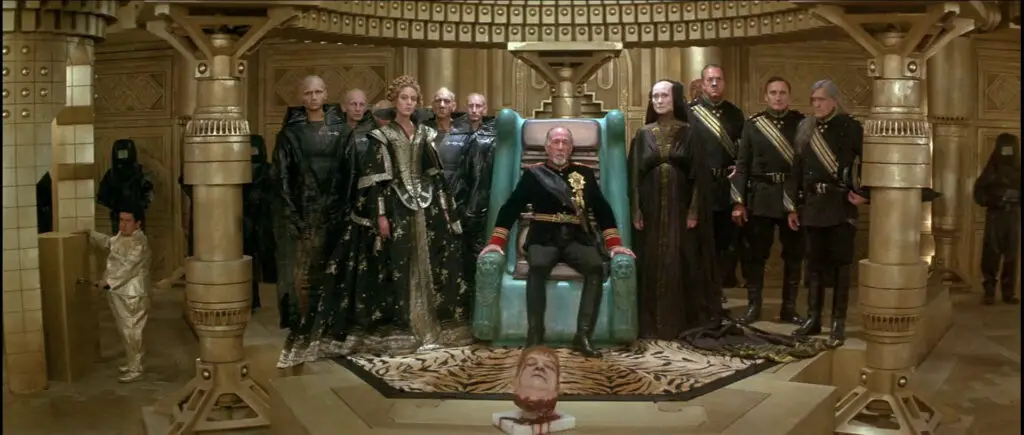 Rabban was played by Paul Smith, who recalled Rabban's end in The Making of Dune by Ed Naha.
That head really frightened me when I first saw it, it's too lifelike. They used me as a model, of course. To make a mold, they put cream on your face and then pour this rubber on until it hardens. There's one straw in your mouth for you to breathe through. They plug up your nose and your ears. Talk about claustrophobia. And the whole time you're there, you feel this stuff on your face getting harder.

A couple of weeks later I walked into makeup and there was my head with two spikes stuck through it. Whoooaaaa! Poor Rabban. He meets such a lousy end. I'm a little sad about that.

Paul Smith, The Making of Dune
Frank Herbert's Dune TV Miniseries (2000)
In 2000, John Harrison wrote and directed a three-part miniseries for the Sci Fi Channel. In his script there is no mention of Gurney's history with Rabban, and the Beast is killed in a battle towards the end of the film when he is thrown off a roof by a group of Fremen. A Fremen child then removes his head and holds the trophy up to deafening cheers.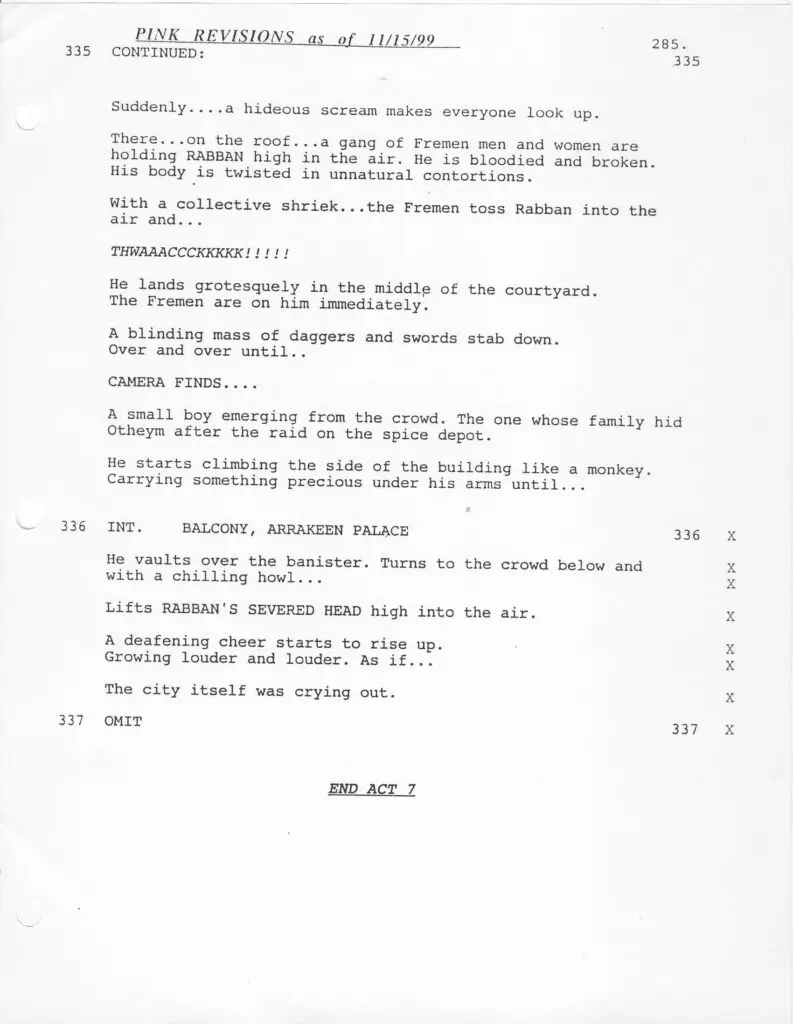 The version actually shown TV is slightly different; with Rabban being stabbed to death by Fremen, instead of being dropped into a courtyard first.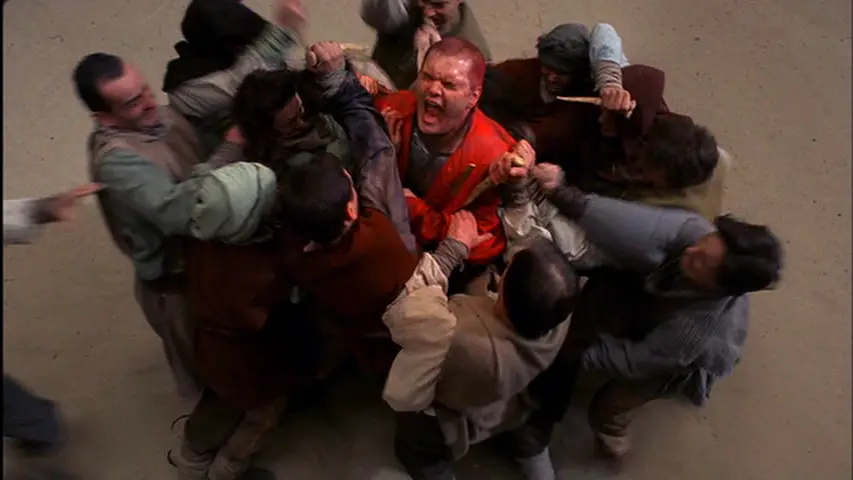 Peter Berg / Pierre Morel's Dune (2008-2011)
In October 2007, Paramount acquired the movie rights for Dune, with Peter Berg set to direct. Work on the script was again delayed by a writers strike, but finally Joshua Zetumer wrote a 13-page treatment dated July 2008 for Berg, but it contains no mention of Rabban. The treatment, however, focuses mainly on Paul, and doesn't mention many other characters, so it is possible Rabban would have made an appearance in a complete script.
Peter Berg left the Dune production in October 2009, and Pierre Morel stepped in as the new director. A full 120-page script by Chase Palmer was completed in 2010, and which makes much of the animosity between Gurney and Rabban, adding three scenes with the two of them. The first is during the Landsraad Council, when the Emperor transfers the Imperial Seal of Arrakis from House Harkonnen to House Atreides, and has Rabban mocking Gurney across the room.
The second meeting is during the Harkonnen attack in Arrakeen, and "Gurney plows through Harkonnen soldiers like a raging bull, his sights set on Beast". His attack is interrupted, and it isn't until their third and final meeting that we get to finally see Gurney and Rabban fight… and Rabban's death.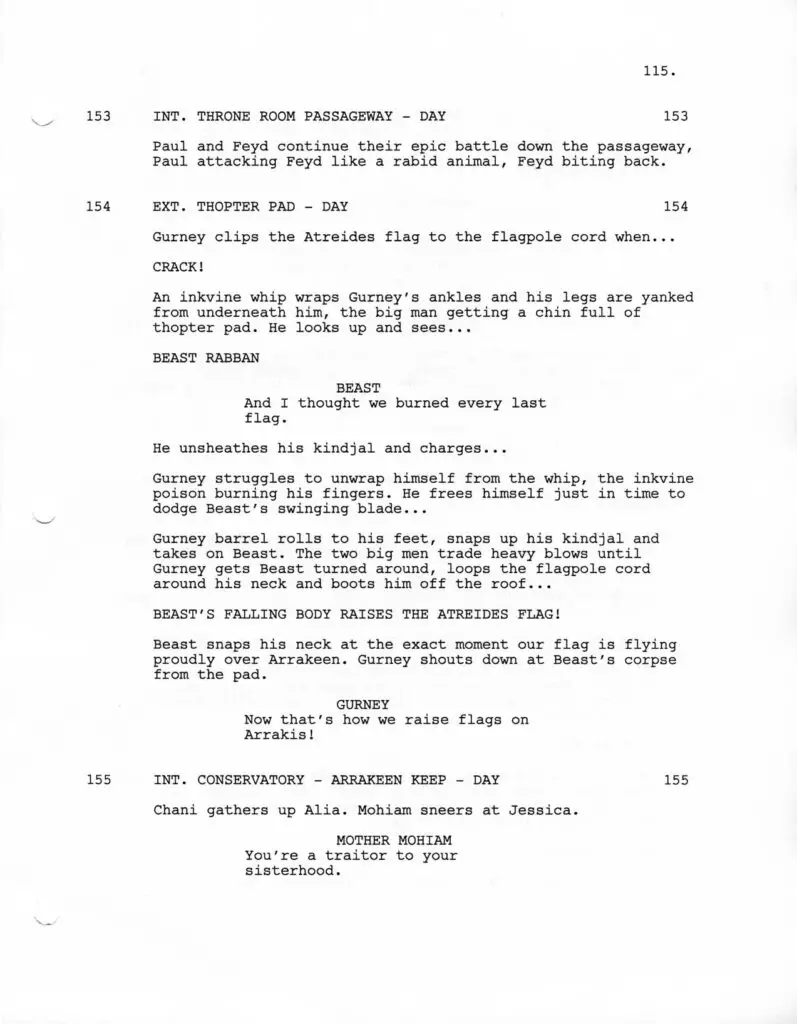 The Waters of Kanly (2017)
Brian Herbert and Kevin J. Anderson have written many novels that contain Gurney and Rabban, but it is a short story The Waters of Kanly that features the pair of warriors at its core.
Originally published in the anthology Infinite Stars, this midquel short story was later released in the Sands of Dune collection of novellas and short stories in 2022. It was also adapted into a four-issue comic book series.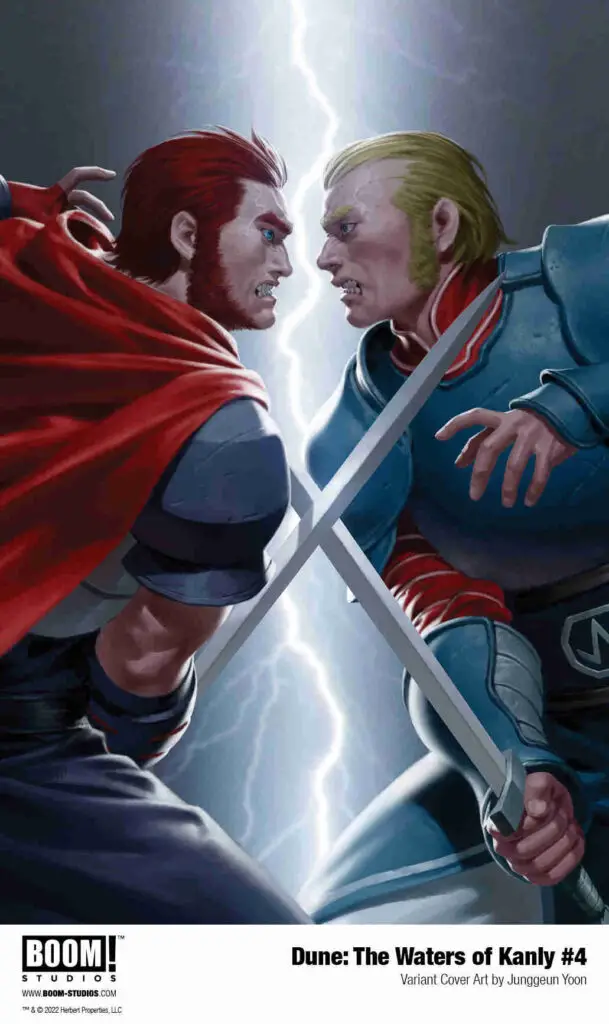 This story explores Gurney's "lost years" on Arrakis after the fall of House Atreides, and his declaration of Kanly (a formal feud or vendetta) against Rabban. Aided by Spice smugglers, Gurney plots an audacious attack on a shipment of water to Rabban's troops in Arrakeen, but there are plans within plans…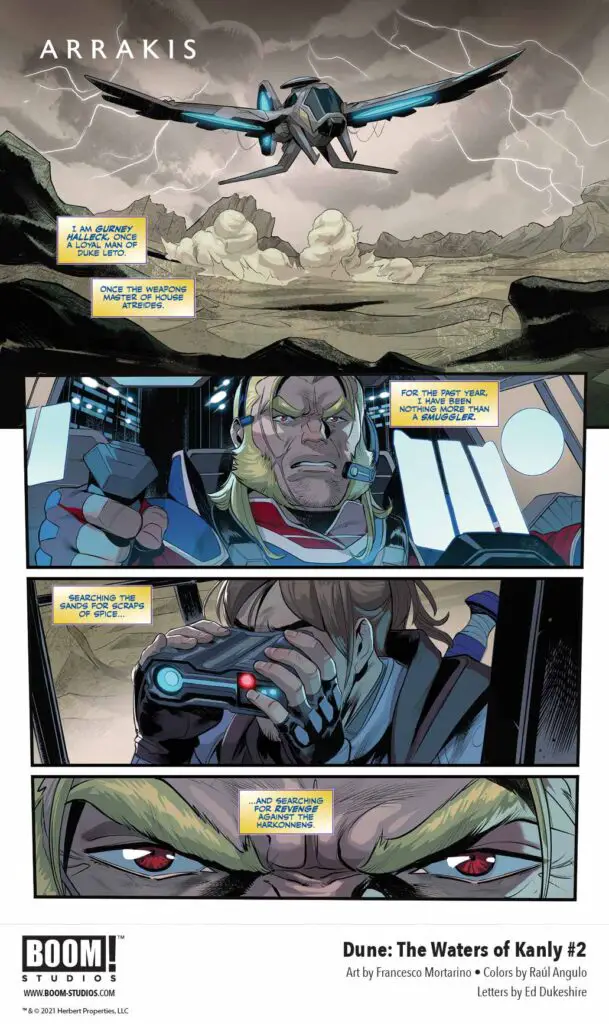 Denis Villeneuve's Dune: Part Two (2023)
In Vanity Fair's first look at Dune: Part Two, fans were quick to spot that the pictures of Gurney and Rabban looked as though they could be from the same scene.
When the hi-res images started appearing online, examination of the files' metadata revealed that the pictures were taken less than two hours apart in early October 2022—likely part of the night shots taking place at that time at Origo Studios in Budapest. This reinforces the theory that we'll see a clash between Gurney and Rabban in the second movie.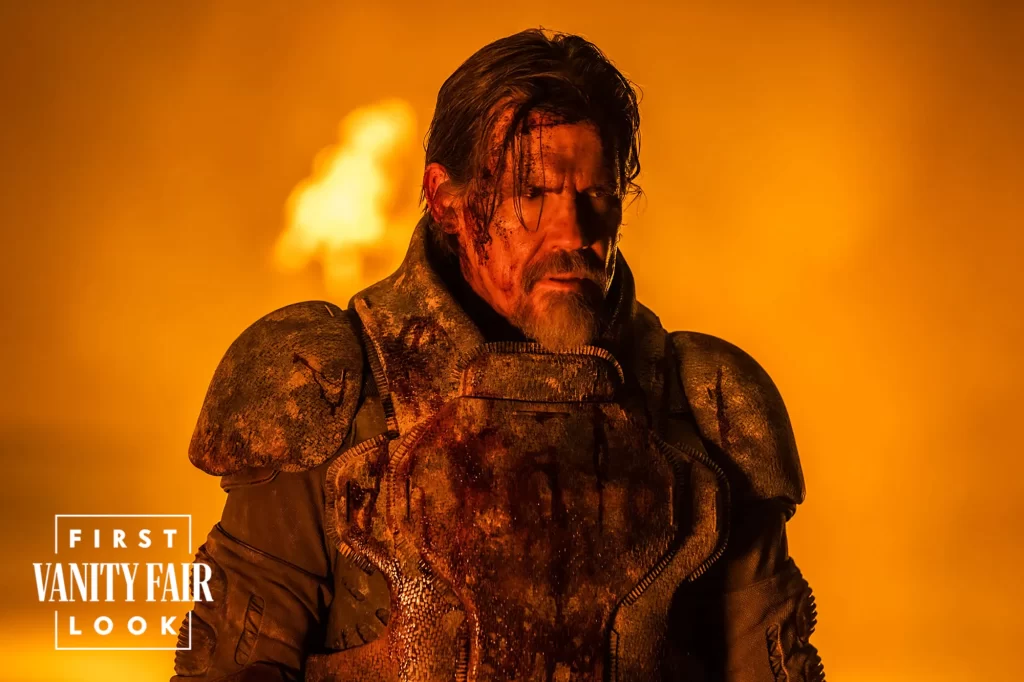 Then, in late May, a toy website in the Philippines posted details of eight Dune: Part Two collectibles from McFarlane Toys that are due out in November 2023. One was a pack of two action figures labelled "Gurney Halleck and Rabban Battle"!
While these sets of action figures have not been officially announced, it's sounding likely that—after nearly 60 years—Gurney will finally have his revenge on Rabban.
Do you want to see Gurney and Rabban fight in the movie? Or is this an unnecessary change to the Dune novel that undermines Gurney's torment? Leave your comments below!