In April 2015, celebrating the 50th anniversary of the world's best-selling science-fiction novel, The Folio Society published their beautiful edition of Frank Herbert's Dune.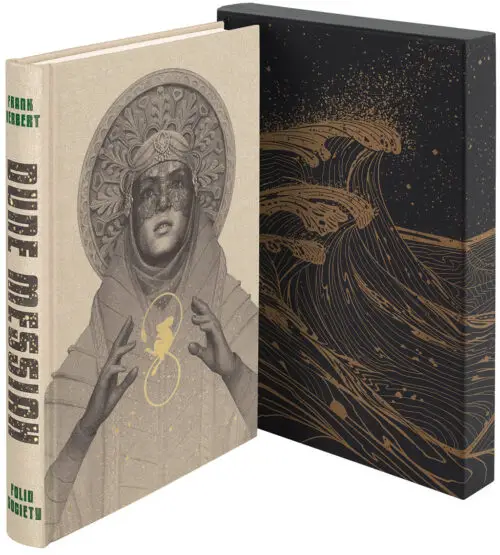 Now, after a wait of over eight years, Frank Herbert's sequel novel is available for pre-order from The Folio Society in another gorgeous collector's edition. This book, like its predecessor, is 10″ x 6¾" and the text is set in the same Dante with Helvetica Neue and Black Tulip fonts. Dune Messiah is a much shorter book than Dune, so even with an increased font size the new edition is less than half the page count. The sequel does have proportionally more full color illustrations, with seven stunning pieces by Hilary Clarcq, compared to the original novel's 11 by Sam Weber. The front cover features Chani and a golden Muad'Dib—a delightful logo I wouldn't be surprised to see turning up as tattoos in the future!
The thickness and weight of the Folio Society's edition of Dune meant reading it could be difficult, and was perhaps saved by collectors as a special "non-reading copy." Dune Messiah's length makes handling it much easier, and the book feels a perfect size for reading – be it for yourself or that Dune fanatic in your life.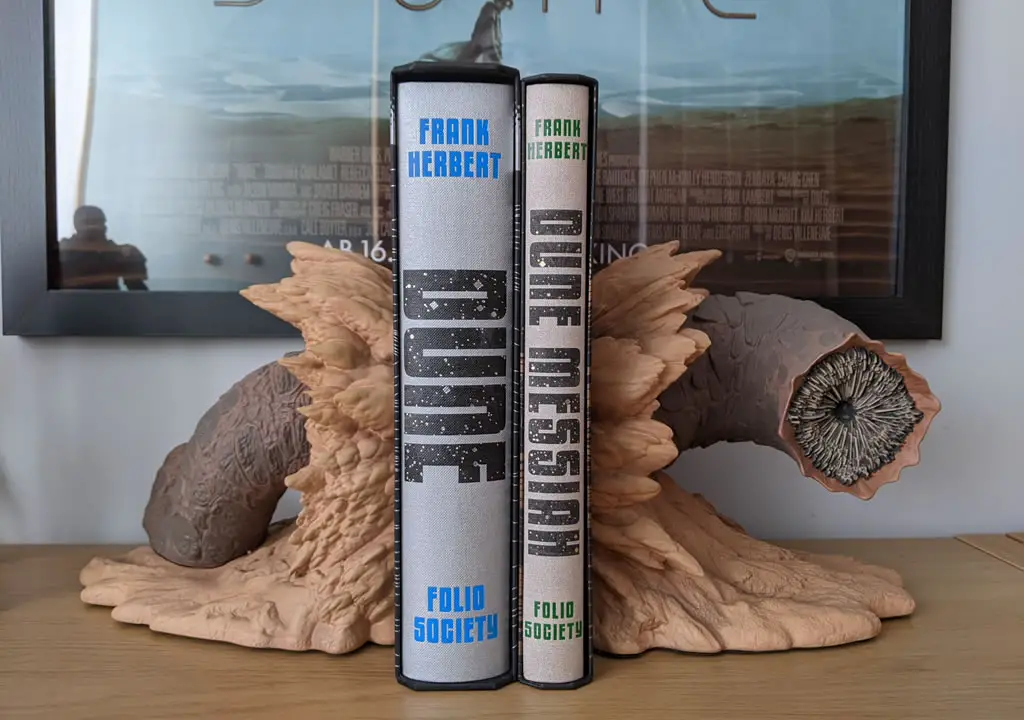 There are cheaper copies of Dune Messiah available, be it in paperback or eBook, however if you are wanting something special this is an excellent edition. Hopefully we won't have to wait another eight years for Children of Dune!
The collectors edition of Dune Messiah is now available for pre-order, directly from The Folio Society.
Folio Society – Dune Messiah Release Notes
Lose yourself once again in the sands of Arrakis, with Frank Herbert's monumental Dune Messiah. This second book, in one of the most influential science-fiction sagas of the 20th century, is presented in a unique illustrated edition from The Folio Society.
Paul Atreides has been Emperor of the Known Universe for twelve troubled years. He is the most formidable being in the universe, yet powerless to stop the catastrophic galaxy-wide war triggered by his ascension to the throne. Paul's sweeping, tragic saga is illustrated by award-winning artist—and self-confessed Dune superfan—Hilary Clarcq.

This edition also includes Herbert's elusive 'Death Cell Interview' prologue, a dramatic recap of the first book that he wrote for the first U.K. edition of Dune Messiah in 1971 and has appeared sporadically in versions ever since. Whether you're familiar with Dune from the classic novel or the blockbuster movies, the Folio edition of Dune Messiah is the vital next step in your journey.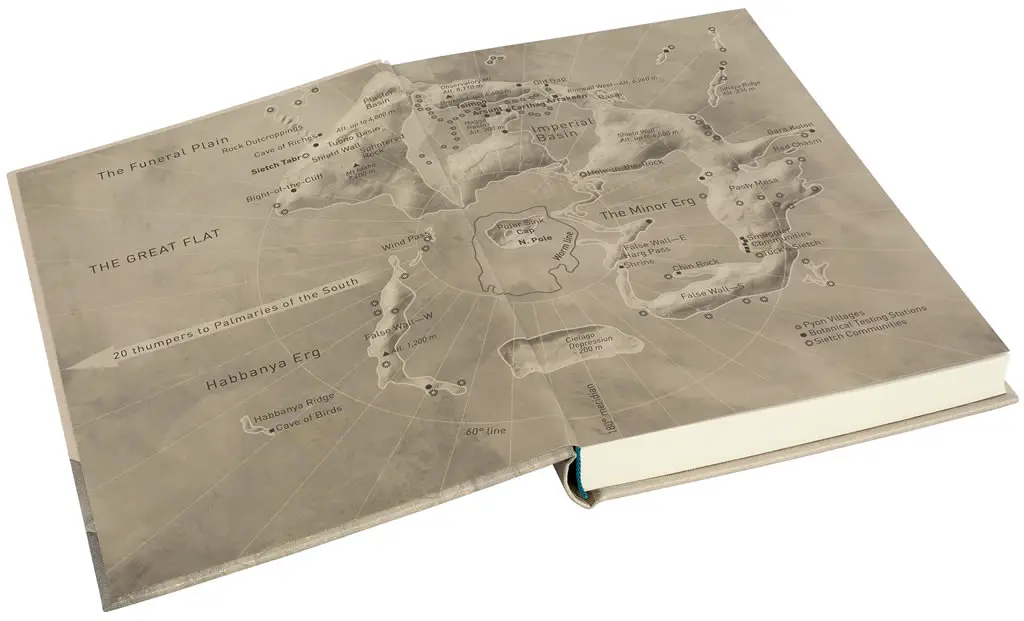 Production Details
Bound in printed and blocked metallic cloth
248 pages
Frontispiece, seven color illustrations, including one double-page spread, and 10 black and white chapter headings
Endpaper map of Arrakis by Martin Sanders
Set in Dante with Helvetica Neue and Black Tulip display
Printed slipcase
10″ x 6¾"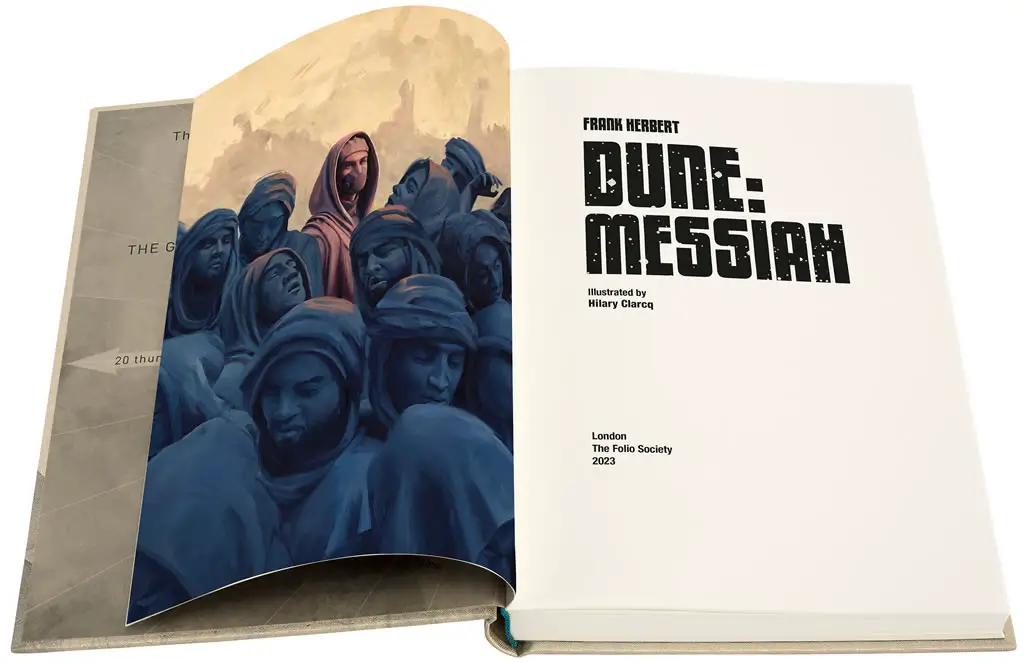 Author Frank Herbert created Dune Messiah—initially serialized in Galaxy Magazine in 1969—not so much as a sequel, but as a crucial continuation to Paul's story. The young emperor may have realized his destiny, however this has wrought terrible consequences across the Known Universe. Grappling with his paradoxical prescience, Paul struggles to pursue a path that will preserve humanity and lead to its awakening, while fending off a deadly conspiracy; including members of the Bene Gesserit sisterhood, Spacing Guild, and the Tleilaxu, insidious genetic engineers who present a familiar face…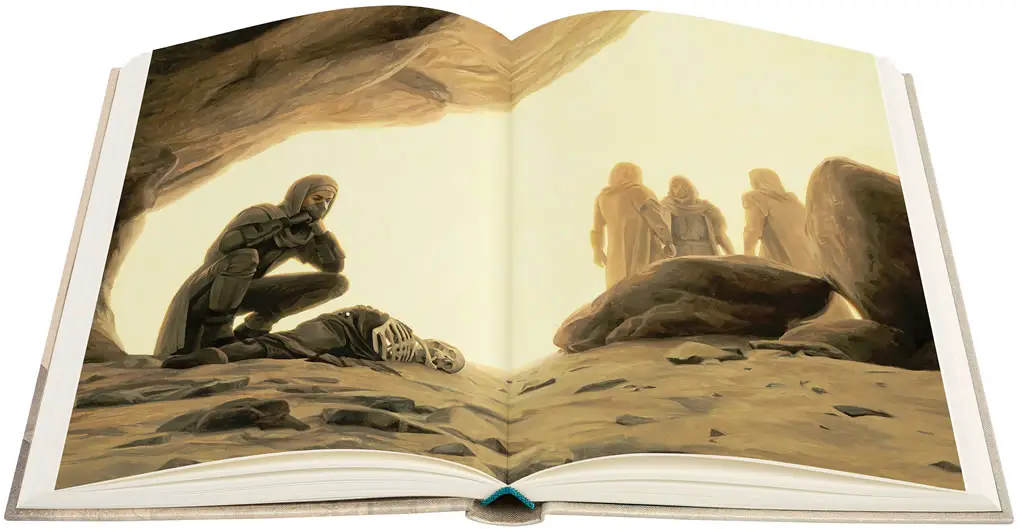 This is Frank Herbert at the peak of his powers: riveting intrigue, rich storytelling, authentic world-building, and a gallery of memorably conniving characters. In addition to a parade of cinematic illustrations and chapter headers, Hilary Clarcq provides a stunningly thematic cover image of Alia.

The book itself is bound in metallic grey cloth, flecked with spice dust in blocked gold, and comes in a slipcase enveloped by the ocean sands of Arrakis. This stunning Folio edition of Dune Messiah reveals the full scope of Frank Herbert's vision of which the original Dune was only a part.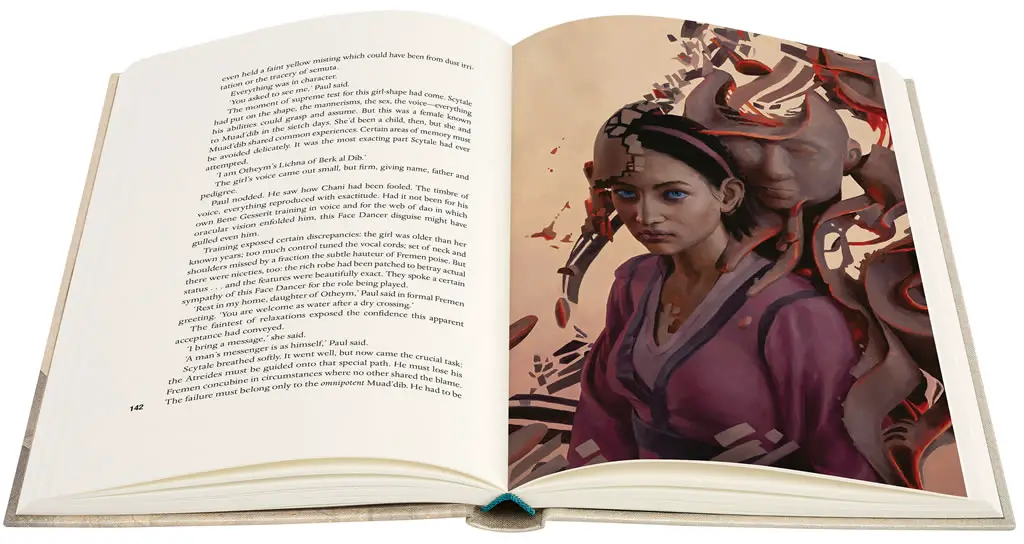 Pre-order Dune Messiah now on the The Folio Society website.
Note: Many thanks to The Folio Society for providing the Dune News Net team with a review copy of this collector's edition book.