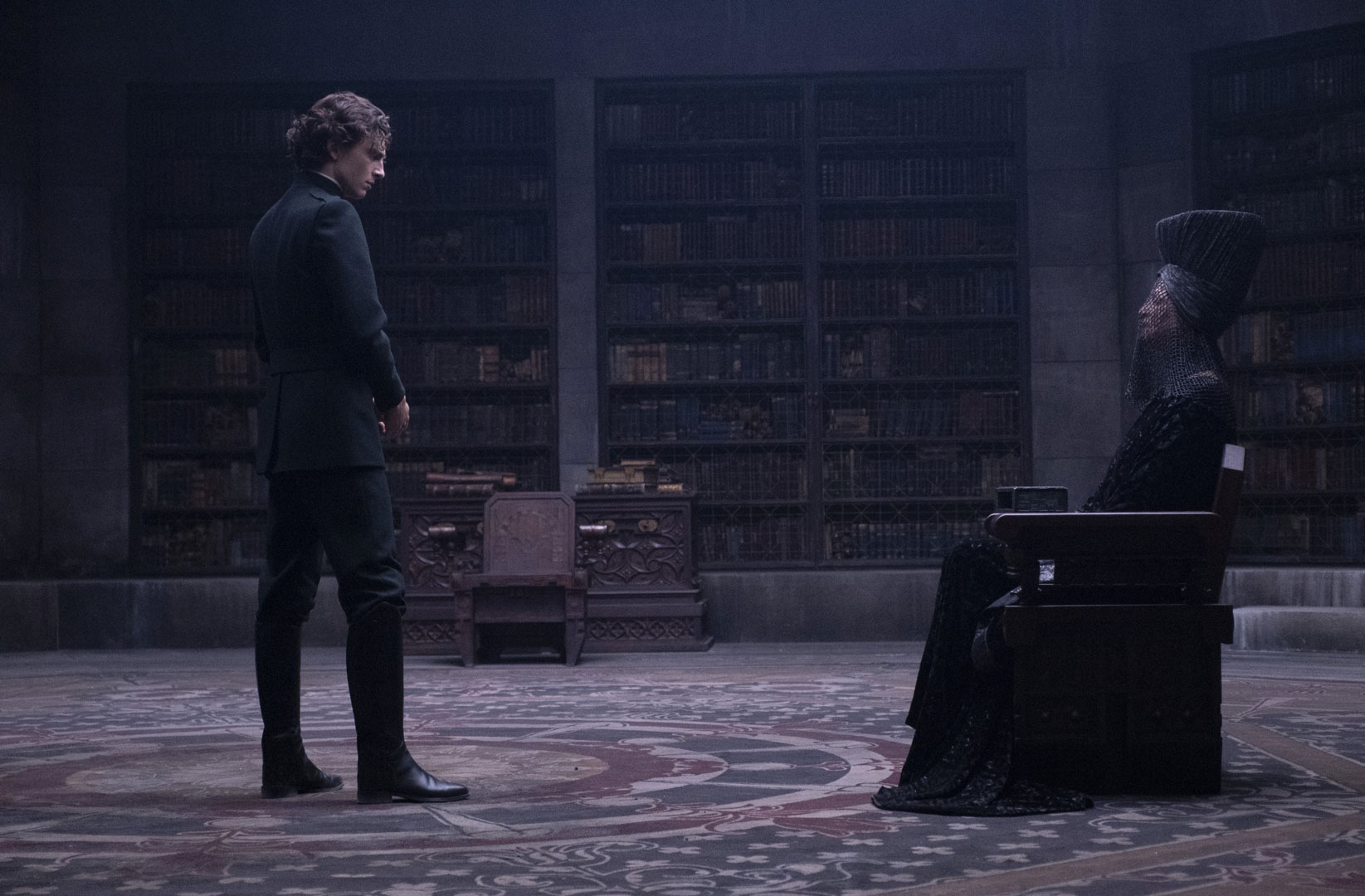 As part of their bi-weekly "Path to Dune" series, IGN have released an exclusive director's commentary clip. Denis Villeneuve breaks down the iconic scene where Paul Atreides, played by Timothée Chalamet in the movie, must reckon with the Gom Jabbar. This deadly test is administered by Reverend Mother Gaius Helen Mohaim (Charlotte Rampling) of the Bene Gesserit Sisterhood—we've already seen a display of her superhuman powers in earlier trailers.
Watch the video (3.5 minutes) here. Read further for our commentary and the transcript.
This scene specifically takes place during the book's opening pages, yet—while it may appear straightforward on the surface—carries such rich undertones regarding what's to come. We see the strength of the Bene Gesserit, both in terms of their extraordinary abilities and their political influence. Even visiting the seat of power of House Atreides, the Reverend Mother was in a position to kill their ducal heir, had he failed the test, and walk away without repercussions.
Of course, the introduction of Paul Atreides is central here. Although the 15-year-old noble has been trained according to the greatest schools of combat and thought, he has lived a relatively sheltered life on the ocean world of Caladan. Before the Gom Jabbar, there have only been dreams hinting at a fantastic destiny. It is with his hand in the agonizing box, that Paul begins to realize the truth of tremendous potential within himself and the ominous future that lies ahead.
Hearing the director talk, even if it's in his second language, you feel the great depth of his understanding of the characters and themes of Dune. It's exciting to hear Villeneuve describe how shooting this early scene was also a transformative moment for Chalamet—one that affirmed the former's choice to seek this talented actor for the leading role. As per multiple interviews with the director, in his mind it was always Chalamet that was Paul Atreides. He didn't consider other options.
Here's the full transcript from the video:
Hello, I'm Denis Villeneuve, the director of Dune, and we will do a little breakdown of the Gom Jabbar scene together.

This scene is a key moment in the novel… it opened the novel. It's like Paul Atreides being awakened in the middle of the night by his mother, Lady Jessica, to meet Reverend Mother Gaius Mohaim, who will test Paul with a special device—which is a box and a poison needle. It's an iconic scene of the book, a very important scene, a scene that I was looking forward to do.

It's like a psychological test. Paul will be invited to put his hand in a strange box and as he [does] so, he will feel tremendous insane pain. And if he does any movement—if he speaks or if he moves—he will be put to death… It's how he will be able to control his impulses, how he will be able to control pain, in order to survive and show that he's a real human being and not someone that is in contact with the lower animal instinct.

The Bene Gesserit sisterhood are a female congregation that are trying to filter humans and to just bring the best out of them, and to keep the best out of them, in order to create perfect human beings that will bring humanity to our enlightenment. We have to remember that in Dune there's no computers. In this society, the humans decided—in the past that artificial intelligence was the wrong way, a wrong way for human evolution—to ban computers and they rely only [on] the human brain, [on] the human spirit.

It's a very important scene where we learn about the Bene Gesserit power, this female congregation that is the most powerful [faction] in Dune, and that's where we learn about a secret, something that would be revealed about Paul's identity here.

It's a scene that I was very excited to shoot with the great Charlotte Rampling and with Timothée [Chalamet] It was one of the very first scene I shot with Timothée and as I was shooting the scene the character of Paul is going through a transformation a bit like an [exorcism]. The Reverend Mother pushes the envelope a bit too much, and she will provoke and awaken a force inside Paul, that he's not aware of.

It's really a transformative process. I [witnessed], in front of the camera, this transformation in Timothée, which was a really amazing and very powerful moment for me, because I realized that I had chosen the perfect actor to be Paul Atreides.

Denis Villeneuve
This video was first featured on the IGN website, with additional commentary. They'll be publishing more features on a bi-weekly basis, leading up to the premiere of Dune: Part One in the United States on October 22.
Meanwhile, the movie has already been released in some Asian and European countries. Check out our overview of the movie's theatrical release dates in each region.
Source: IGN YouTube channel (September 16)